On Snow
By James Parton
A Riddle
From Heaven I fall, though from earth I begin.
No lady alive can show such a skin.
I'm bright as an angel, and light as a feather,
But heavy and dark, when you squeeze me together.
Though candor and truth in my aspect I bear,
Yet many poor creatures I help to insnare.
Though so much of Heaven appears in my make,
The foulest impressions I easily take.
My parent and I produce one another,
The mother the daughter, the daughter the mother.
--------
The last day of winter break was very quiet around here -- we thought about going out, perhaps to National Cathedral when the morning rain slowed to a drizzle, but both kids were finishing up homework, I was finishing up an article, and Paul was finishing up cleaning out the refrigerator. Plus we were all half-watching first the Ravens-Bengals game (which Baltimore won), then the Redskins-Giants game (which New York won, though the Packers won too, so the Giants aren't going to the playoffs -- now if only Washington would fire their offensive coordinator instead of their quarterback). Then my father called and asked whether Daniel would like his old Dell computer now that he has bought a new one, which Daniel accepted, though I ended up swiping the larger monitor and giving Daniel my old one, which makes me very happy, and we spent the late afternoon fiddling with computer settings and cleaning up desks.
We had leftover chili for dinner and one last night of evil desserts -- ice cream sundaes, plus some chocolate covered pretzels -- while watching the Rams-Seahawks game. Adam has shown surprising interest in football recently, particularly after the fabulous end of the Music City Bowl which UNC won in double overtime, and as you can tell, it was a very football-filled weekend around here; the Terrapins just announced that they've hired UConn's football coach, though my friend Laurie from Connecticut warns me not to get too excited. *g* My parents stopped by to pick up some DVDs and we talked to my in-laws on the phone. Adam made some fractals, Daniel played some Shin Megami Tensei, I started the laundry that needs to be folded tomorrow, and that's about all the news! Here are some more photos from Winterthur's Yuletide:
Winterthur's gardens are famous for peonies, which decorate this tree.
This pretty Italian port is my favorite wallpaper in the house...
...though this hand-painted Chinese wallpaper, for which du Pont had the ceiling raised, is the most celebrated.
Many rooms in the house are currently decorated with holiday treats and desserts.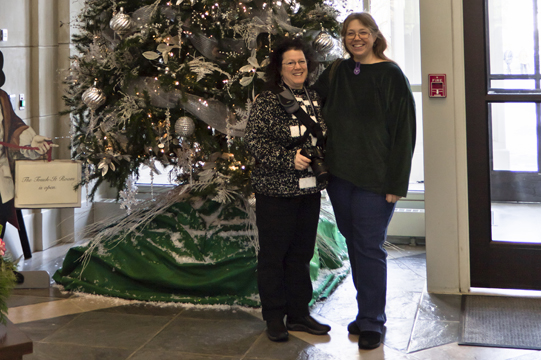 Here I am with Dementordelta in the visitor center.
The Campbell Collection of Soup Tureens looks lovely with bare trees and snow outside the glass enclosure.
We walked back to the parking lot from the mansion at sunset...
...and saw the sheep in the snow as we drove to the gate.