ProphecyBy Dana Gioia
Sometimes a child will stare out of a window
for a moment or an hour—deciphering
the future from a dusky summer sky.
Does he imagine that some wisp of cloud
reveals the signature of things to come?
Or that the world's a book we learn to translate?
And sometimes a girl stands naked by a mirror
imagining beauty in a stranger's eyes
finding a place where fear leads to desire.
For what is prophecy but the first inkling
of what we ourselves must call into being?
The call need not be large. No voice in thunder.
It's not so much what's spoken as what's heard—
and recognized, of course. The gift is listening
and hearing what is only meant for you.
Life has its mysteries, annunciations,
and some must wear a crown of thorns. I found
my Via Dolorosa in your love.
And sometimes we proceed by prophecy,
or not at all—even if only to know
what destiny requires us to renounce.
O Lord of indirection and ellipses,
ignore our prayers. Deliver us from distraction.
Slow our heartbeat to a cricket's call.
In the green torpor of the afternoon,
bless us with ennui and quietude.
And grant us only what we fear, so that
Underneath the murmur of the wasp
we hear the dry grass bending in the wind
and the spider's silken whisper from its web.
--------
Our day did not go precisely as planned. We had free tickets to the Nationals game courtesy
The Washington Post
and various local stores, so we left the house in the morning figuring we'd walk around the stadium for a while, then go sit and eat lunch in our seats. But the rain that originally wasn't supposed to arrive until evening showed up by noon, so we spent nearly three hours doing things like this:
This is how the scoreboard read from game time and for the next two hours while we were at the stadium.
We arrived early since we'd never been to the stadium -- when we last saw the Nationals play, they were still at RFK.
The long lines of red shirts are waiting to get autographs before the game.
When it started to rain, people retreated undercover.
One of the highlights of the stadium is the views of the Capitol...
...and views of the Washington Navy Yard, including the USS Barry.
We ate lunch and watched the Dodgers-Braves game while waiting for the rain to stop, and went to meet the presidents!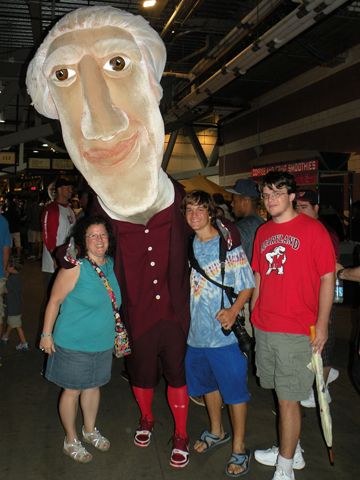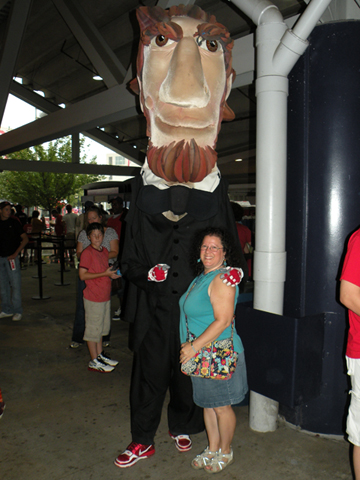 By mid-afternoon the kids had had it, so we went home, where we arrived a few minutes before the pitchers started warming up! The Nats won 5-2, important since they play the Braves next (and the Dodgers beat the Braves while we were waiting for the game to start). We did a bunch of cleanup chores after dinner and watched the season finale of
Political Animals
, whose big shocker twist was not the thing that surprised me the most!