She Is Overheard SingingBy Edna St. Vincent Millay
Oh, Prue she has a patient man,
And Joan a gentle lover,
And Agatha's Arth' is a hug-the-hearth,­--
But my true love's a rover!
Mig, her man's as good as cheese
And honest as a briar,
Sue tells her love what he's thinking of,­--
But my dear lad's a liar!
Oh, Sue and Prue and Agatha
Are thick with Mig and Joan!
They bite their threads and shake their heads
And gnaw my name like a bone;
And Prue says, "Mine's a patient man,
As never snaps me up,"
And Agatha, "Arth' is a hug-the-hearth,
Could live content in a cup,"
Sue's man's mind is like good jell­--
All one color, and clear­--
And Mig's no call to think at all
What's to come next year,
While Joan makes boast of a gentle lad,
That's troubled with that and this;­--
But they all would give the life they live
For a look from the man I kiss!
Cold he slants his eyes about,
And few enough's his choice,­--
Though he'd slip me clean for a nun, or a queen,
Or a beggar with knots in her voice,-­-
And Agatha will turn awake
While her good man sleeps sound,
And Mig and Sue and Joan and Prue
Will hear the clock strike round,
For Prue she has a patient man,
As asks not when or why,
And Mig and Sue have naught to do
But peep who's passing by,
Joan is paired with a putterer
That bastes and tastes and salts,
And Agatha's Arth' is a hug-the-hearth,­--
But my true love is false!
--------
This will be quick because we watched a terrible terrible movie, then turned it off to find the
Les Miserables
25th anniversary concert on PBS -- I did not go looking for it, I swear -- so now I am distracted! We had beautiful weather here on Saturday (a bit cool, but that's vastly preferable to a bit snowy), so after Adam got home from biking to Carderock, then running with the track team since the track itself was being used for something at the school -- Adam prefers cross country anyway -- we picked up Maddy and went out to lunch (Adam and Maddy at Fresh Market's cafe, the rest of us at Noodles & Company). The Easter Bunny was giving out plastic eggs with coupons and we walked around the shops waiting for the kids.
Then we went to Brookside Gardens, which has daffodils in bloom all over the place, plus many other ground flowers and the earliest flowering apricots and cherry blossoms. A few turtles were out, plus the geese, mallards, one heron, and many dozen robins and squirrels. We were still full from lunch when we got home at dinnertime, so we had sandwiches on the late side. Then we watched
Black Death
, which has Sean Bean and Eddie Redmayne giving decent performances but a screenplay that is both historically ridiculous and rampantly misogynistic (and even by the standards of a certain actor's legendary death scenes, this one raises the level of gruesomeness). Now
Les Mis
has me in a better mood, so have a few flower pics, including one from the ikebana display in the nature center: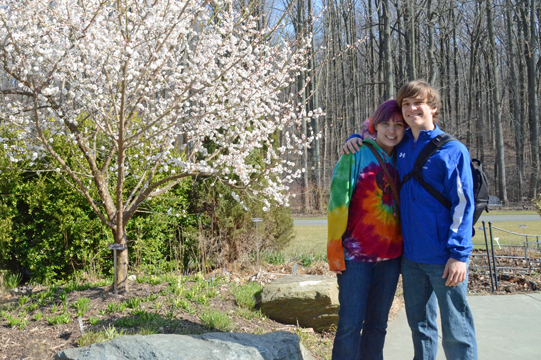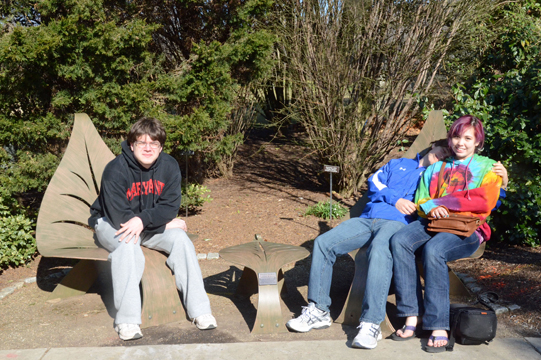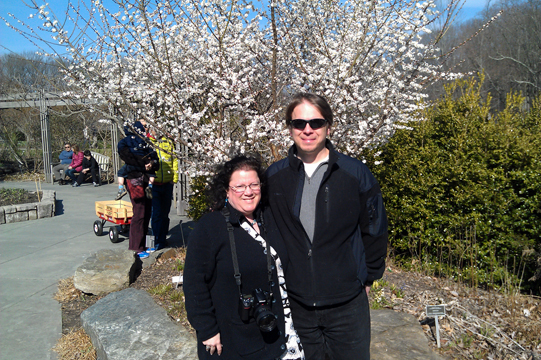 Go, Wichita State! *g*