ImagineBy Kamilah Aisha Moon
after the news of the dead
whether or not we knew them we are saying thank you
— W.S. Merwin
A blanket of fresh snow
makes any neighborhood idyllic.
Dearborn Heights indistinguishable from Baldwin Hills,
South Central even—
until a thawing happens and residents emerge
into the light. But it almost never snows in L.A.,
and snows often in this part of Michigan—
a declining wonderland, a place not to stand out
or be stranded like Renisha was.
Imagine a blonde daughter with a busted car
in a suburb where a brown homeowner
(not taking any chances)
blasts through a locked door first,
checks things out after—
around the clock coverage and the country beside itself
instead of the way it is now,
so quiet like a snowy night
and only the grief of a brown family (again)
around the Christmas tree, recalling
memories of Renisha playing
on the front porch, or catching flakes
as they fall and disappear
on her tongue.
They are left to imagine
what her life might have been.
We are left to imagine the day
it won't require imagination
to care about all of the others.
--------
We woke up to the snow that we had been warned about for two days. Since school had been canceled the night before, we all slept late, watched the snow fall while we ate breakfast, then watched
Kill Your Darlings
, both
Happy Feet
movies which Cheryl had never seen,
Gravity
,
CBGB
, and
Velvet Goldmine
.
As you can tell, it was a very strenuous day. Adam, at least, got paid to shovel our neighbors' sidewalk and graciously cleared off our steps, walk, and cars too; Paul made sriracha tofu and eggplant for dinner, plus we still had piles of leftover Oscar snacks. A few snow day photos: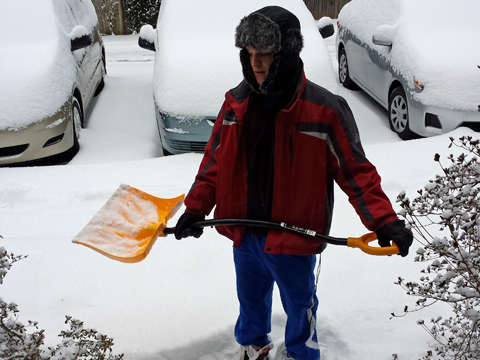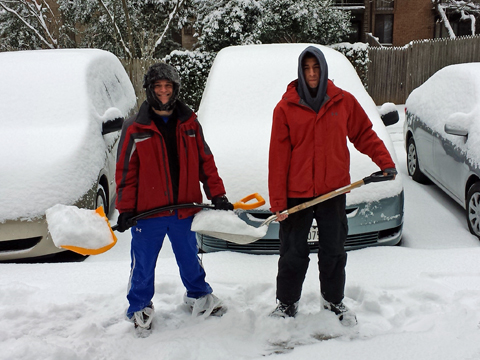 Adam has no school again Tuesday so he is very pleased. Have a happy Mardi Gras if you are celebrating!