JabberwockyBy Lewis Carroll
'Twas brillig, and the slithy toves
Did gyre and gimble in the wabe;
All mimsy were the borogoves,
And the mome raths outgrabe.
"Beware the Jabberwock, my son
The jaws that bite, the claws that catch!
Beware the Jubjub bird, and shun
The frumious Bandersnatch!"
He took his vorpal sword in hand;
Long time the manxome foe he sought—
So rested he by the Tumtum tree,
And stood awhile in thought.
And, as in uffish thought he stood,
The Jabberwock, with eyes of flame,
Came whiffling through the tulgey wood,
And burbled as it came!
One, two! One, two! And through and through
The vorpal blade went snicker-snack!
He left it dead, and with its head
He went galumphing back.
"And hast thou slain the Jabberwock?
Come to my arms, my beamish boy!
O frabjous day! Callooh! Callay!"
He chortled in his joy.
'Twas brillig, and the slithy toves
Did gyre and gimble in the wabe;
All mimsy were the borogoves,
And the mome raths outgrabe.
--------
I had a nice, kind of low-key birthday, which was exactly what I wanted since I'm seeing my parents and kids on Friday and my in-laws on Saturday. Paul worked from home so we could go out to lunch together, though after a morning of sorting stuff to freecycle and things like that, I was startled to look outside and see snow coming down. Fortunately none of it stuck, so we went to Minerva for Indian buffet, then stopped at Kohl's so I could exchange something I bought the day before. Then we came home and I folded laundry and took a walk to see bunnies!
Although I've thought
Gracepoint
wasn't up to par with
Broadchurch
in most ways -- lots of inferior performances, though I've had more issues with Beth, Mark, and Paul than with Ellie, who's probably the most different but I've mostly found her convincing -- I thought the finale was really well done, and the similarities and differences worked for me. Watching
Elementary
afterward, I realized how much this season has been frustrating me. I got some awesome presents -- the Mystical Cats Tarot,
Orphan Black
on DVD -- and Paul made me this: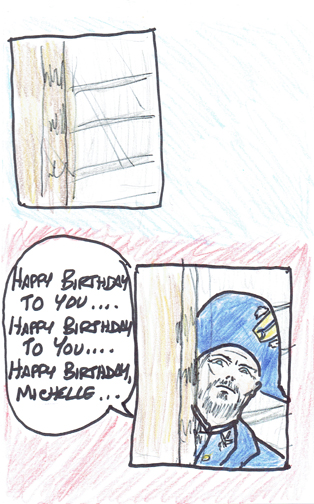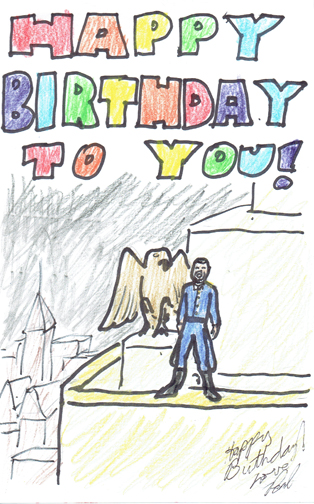 Thanks so much everyone who gave me such a great online birthday with shout-outs, Facebook posts, comments, and emails!