Mr. DarcyBy Victoria Chang
Then we are in the back seat of a car kissing
not the light kind but one where our
hands are on each other's cheeks holding
each other's heads as if they will fall
off why does so much love come at the beginning
then disappear then once again at the moment
before death why can't the same kind exist
in between in the breaths in the
afternoon in the sitting room in a place of costumes
little girls dress like princesses one pink one
blue one yellow they wear plastic heels because
they still think they will never fall
--------
It was a chilly, pretty, very clear Saturday, and we had intended to spend more time outdoors than we actually did. Daniel slept very late, so we did various household chores, then after lunch we let him take us to Meadowside Nature Center so he could get some driving hours in. There was too much snow on the paths through the woods for much hiking, and there were lots of kids crowded inside the nature center for a birthday party, but we did manage to see the eagle and vulture in the cages outside in the cold, and the reptiles and amphibians inside in the little pond and the discovery room: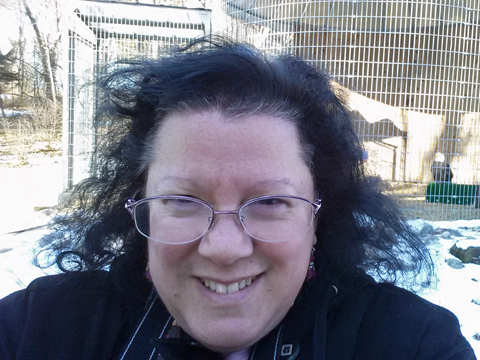 On the way home we stopped at Ulta -- which I will never do again, after waiting much too long only to be told they wouldn't honor the price they were advertising, I went into Hair Cuttery and discovered that their prices on Redken are actually better! -- and at the Brighton store in the mall, which is closing abruptly as of tomorrow, though they didn't have much in their winter sale. We have spent the evening watching season two of
Inspector Lewis
-- don't love the crime, do love the characters and their interaction. Have an enjoyable Super Bowl Sunday if you watch and hope the snow isn't bad where you are!