PrayerBy Philip Metres
Wither me to within me:
Welt me to weal me common again:
Withdraw to wear me weary:
Over me to hover and lover again:
Before me to form and perform me:
Round me to rill me liquid incisions:
Behind me to hunt and haunt me:
Down me to drown indecision
Bury me to seed me: bloom me
In loam me: grind me to meal me
Knead me to rise: raise me to your mouth
Rive me to river me:
End me to unmend me:
Rend me to render me:
--------
"During a struggle of chronic pain years ago, I began searching restlessly for prayers that might reach past my own resistance to prayers I'd inherited in my own faith tradition, and to write my own," the poet tells
Poets.org
. "This poem is born from an old prayer by Lancelot Andrewes, and plays with the paradox embedded in prayers of petition—that we are trying to reach outside of ourselves, but for something of ourselves."
We had another quiet morning, so I installed Windows 10 onto my desktop because I've been very happy with it on my laptops and tweaked the settings (I have Cortana turned off everywhere, and it boots faster and locks up less often than before). Then we had eggs and potatoes for brunch and went to Brookside Gardens to see the butterflies at Wings of Fancy and the turtles, frogs, swallows, and lots of other pond life as well as summer flowers in the garden: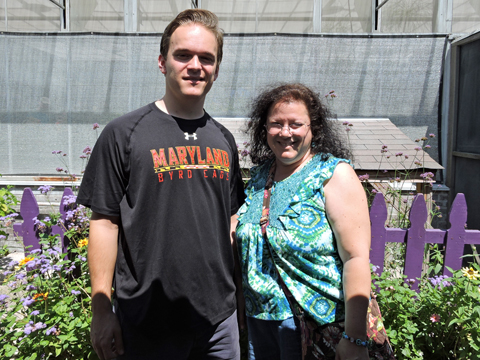 Because my parents hadn't seen Adam in a while since he was in College Park, we had dinner with them, then came home and watched
Harry Potter and the Prisoner of Azkaban
with both Adam and Cheryl long distance -- still my favorite of the movies stylistically, though the screenplay has some inexplicable holes that a few seconds' worth of dialogue from the books could have fixed ("Who wrote the Marauders' Map?" etc.). The casting is pretty wonderful.