Fame Is a Fickle Food
By Emily Dickinson
Fame is a fickle food
Upon a shifting plate,
Whose table once a Guest, but not
The second time, is set.
Whose crumbs the crows inspect,
And with ironic caw
Flap past it to the Farmer's corn;
Men eat of it and die.
--------
I had a very up and down Sunday. Much of it was spent at the Maryland Renaissance Festival, our last visit for the season, where we had spectacular weather and despite enormous crowds got to see everything we wanted in decent seats, though the lunch lines were extremely long and the friends we'd hoped to meet there all ended up having family obligations that kept them away.
During the late afternoon falconry show, though, we got a phone call from Maddy at work. Her best friend's older sister died earlier in the day and she was already frantically making plans to fly to California for the funeral, causing a huge disruption in her new work and school schedule on top of how upset she is feeling for her friend (the anniversary of her mom's death is this week, too).
The rest of the afternoon and evening involved a lot of running around, getting Maddy from work, throwing together dinner, and half-watching
Once Upon a Time
and
Masters of Sex
while taking out trash, feeding cats, doing laundry, etc. Maddy is flying out very early Wednesday so it is going to be a hard couple of days here. Some photos from the Renfaire earlier in the day:
As You Like It
Shakespeare's Women
O'Danny Girls
Wine and Alchemy
Fightasia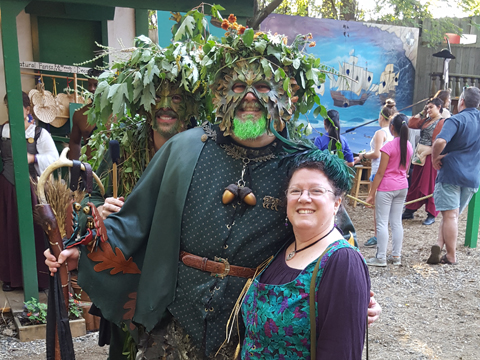 With the Green Men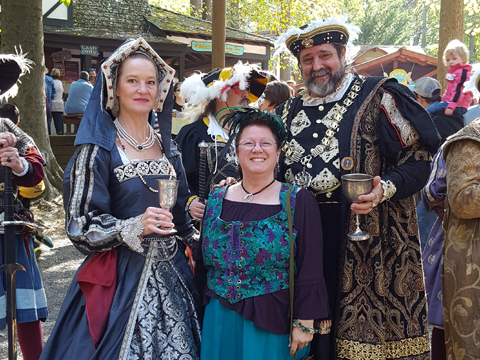 And with the King and Queen