Wood
By Sarah Arvio
The last thing I ever wanted was to
write again about grief did you think I
would your grief this time not mine oh good
grief enough is enough in my life that is
enough was enough I had all those
grievances all those griefs all engraved
into the wood of my soul but would you
believe it the wood healed I grew up and
grew out and would you believe it I found
your old woody heart sprouting I thought
good new growth good new luxuriant green
leaves leaves on their woody stalks and I said
I'll stake my life on this old stick I'll stick
and we talked into the morning and night
and laughed green leaves and sometimes a flower
oh bower of good new love I would have it
I would bow to the new and the green
and wouldn't you know it you were a stick
yes I know a good stick so often and then
a stick in my ribs in my heart your old
dark wood your old dark gnarled stalk
sprouting havoc and now I have grief again
and now I've stood for what I never should
green leaves of morning dark leaves of night
--------
Another from this week's
New Yorker
.
Like many U.S. residents, I spent most of the day celebrating Thanksgiving -- Paul's parents arrived at our house early in the afternoon, we spent a few hours with them, then went over to my parents' house where my sister and her family had arrived the day before yesterday. It was a pretty traditional meal -- turkey, stuffing, mashed potatoes, candied sweet potatoes, cranberry sauce. I ate only minimal stuffing and potatoes to avoid excess salt -- one thing for which I am profoundly grateful is not having had a migraine for the past six weeks, a situation I did not wish to ruin by overindulging -- not a big sacrifice for me anyway, since roast turkey isn't my favorite, and I made up for it with lots of sweet potatoes, which are my favorite Thanksgiving dish (my mom makes the kind with melted marshmallows on top). Here are some photos of the festivities: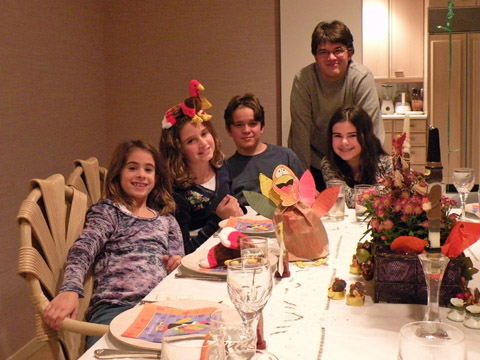 My kids and my sister's kids at the table just before the meal.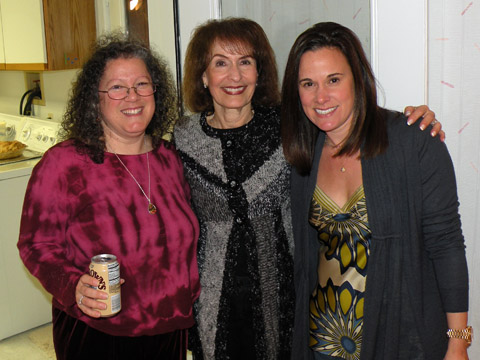 Me, my mother and my sister in the kitchen while the turkey was still cooking.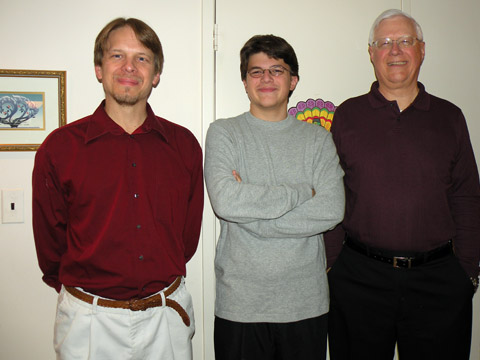 Paul, Daniel and Paul's father just after arriving. Their respective heights are distorted by the angle of the photo -- in fact son is about an inch taller than his father at this point, and his father is two inches taller than he is.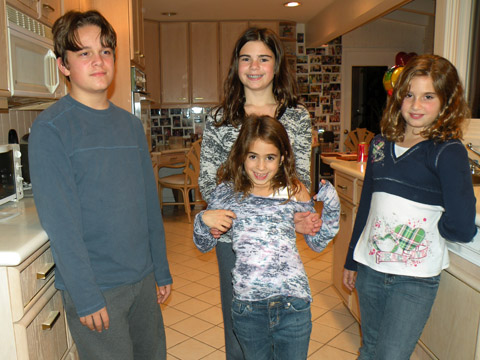 Adam and his cousins in the kitchen.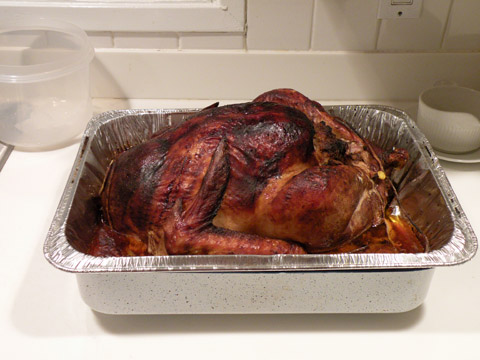 Ta daaaa!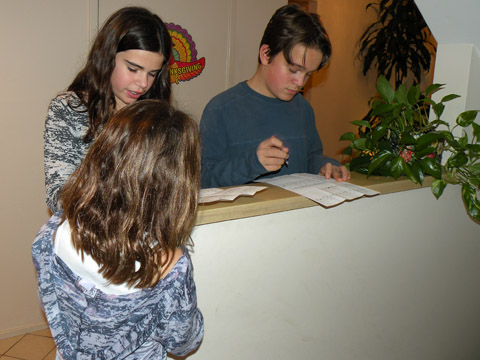 After dinner my mother had a treasure hunt for the kids...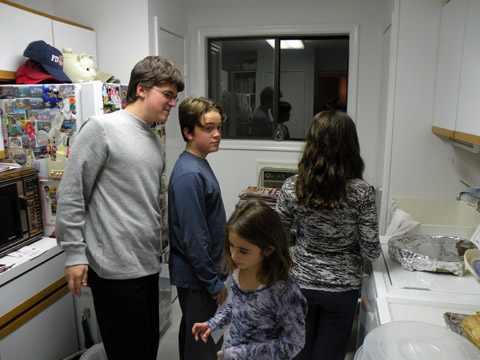 ...which involved making them run all over the house. Since it was raining most of the day and they got very little exercise, this was a fine idea.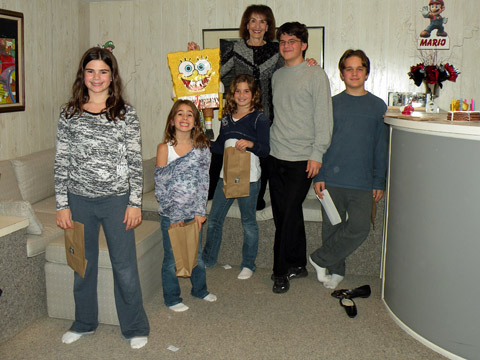 There was also a piñata filled with candy and tchotchkes in the basement.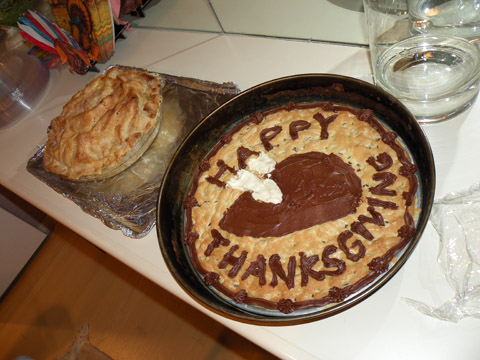 Paul's annual cookie cake.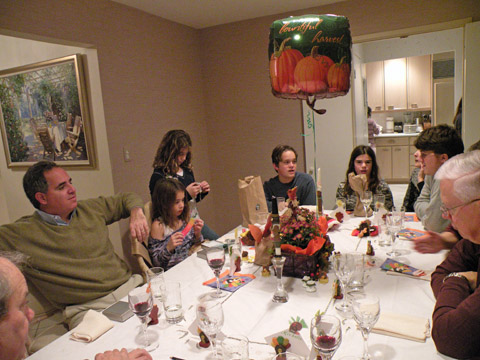 Here's the family around the table before the cookie cake and apple pie arrived.
We missed the beginning of the Paul McCartney concert, which was very abbreviated anyway due to all the commercials and interview clips -- I am planning to buy the DVD, since it's the same set he did in D.C. minus "Michelle" and with the addition of Billy Joel singing on "I Saw Her Standing There." His voice didn't sound as good at Citi Field as it did at FedEx Field -- maybe he gets better the more he plays. He sure didn't sound like he planned to retire any time soon, which makes me happy! On Friday the funeral for the owner of the Washington Wizards will take place at my synagogue. I met Abe Pollin once when I was a kid, when the Washington Bullets won the championship -- he walked around letting people see his championship ring. He was one of the good-guy team owners, and he will be missed in Washington.