Near Halloween
By Marianne Boruch

Like a bad thought, someone else's
bad thought, it hangs
by the neck -- stuffed jeans
and flannel shirt, the pillowcase head
grinning, before
it lops over

Student neighborhood. Which
jubilant drunk hoisted this thing
last night, from porch to star-eyed gable,
a toast: all sadness in the world -- ha!
all misery -- ha! -- to you and you and damn you!
Below, the light of a car blurred
as it took the corner

The body turns
because there's wind. It turns
because it has no weight. The face goes
up, then down again, a soft thud
against the clapboards. It could be
anyone up there. And the leaves -- their
thousands fall into the street, yellow wet,
rimmed with dark

Not that anything's eternal
or exactly like any other thing

--------

Like yesterday's, another from Poet's Choice by Robert Pinsky in Sunday's The Washington Post Book World. This poem, writes Pinsky, "observes an image that nearly teases us with its invitation to some glib notion or lofty flight: some lunge toward Meaning. Boruch gets the emotional charge from an opposite gesture, a movement to the most ordinary language, the deceptively casual formulas of 'it's not that' and 'it could be.' The quietness of the phrases lets the perception itself grow larger. Viewpoint can be everything, such poems convey: It's how you attend to a thing, and from where."
Sunday my older son had a meeting (possibly the final one, for now) with his science group from school, so we drove out to watch them rehearse their class presentation which needs to be somewhat more detailed than the brief one they did for the school science fair. Then we went to Borders, which kindly sent internet users 25% off coupons good this weekend only and because
still has birthday gift cards. Since they didn't have the new DVD release of An Awfully Big Adventure, I got Longitude, the Jeremy Irons-Michael Gambon miniseries about the 40-year effort of an 18th-century clockmaker to find an accurate way to measure longitude at sea and the later effort of a Royal Navy veteran to restore his work; most of the reviews I've read have been glowing, and really, how bad can any miniseries about navigation and sailors starring Irons and Gambon be?

We had dinner again with my parents, not a real seder but most of the food from the holiday, and watched part of the Wizards-Bulls playoff game. Then we came home so the kids could do homework and chores and I watched the catch-up episode of Desperate Housewives, which was very helpful as I've missed more episodes than I've seen. I can't decide whether this show is purely guilty pleasure or something I actually like, but I have never been bored. Elsewhere in entertainment news, a PSA courtesy : Russell Crowe and Alan Cumming without pants. Something so many of us need. As is the community -- what a brilliant idea!

It was drizzly and cool most of today, so although spring is still in full bloom, I didn't get any outdoor photos this weekend. Instead here is spring in North Yorkshire...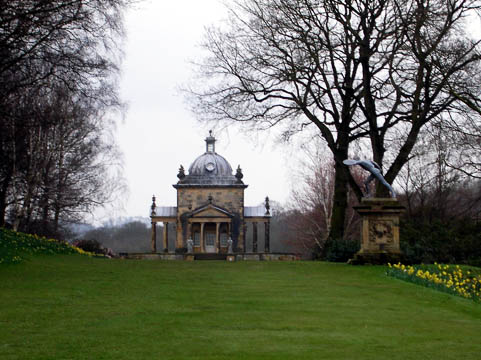 Daffodils and tulips around the Temple of the Four Winds at Castle Howard.