The Choir
By Olga Broumas

I walk and I rest while the eyes of my dead
look though my own, in audible
hosanas greet
the panorama charged serene
and almost ultraviolet with so much witness.
Holy the sea, the palpitating membrane
divided into dazzling fields and whaledark by the sun.
Holy the dark, pierced by late revelers and dawnbirds,
the garbage truck suspended in shy light,
the oyster shell and crushed clam of the driveway,
the dahlia pressed like lotus on its open palm,.
Holy the handmade and created side by side,
the sapphire of their marriage,
green flies and shit and condoms in the crab shell
rinsed by the buzzing tide.
Holy the light-
the poison ivy livid in its glare,
the gypsy moths festooning the pine barrens,
the mating monarch butterflies between the chic boutiques.
The mermaid's handprint on the artificial reef. Holy the we,
cast in the mermaid's image, smooth crotch of mystery and scale,
inscrutable until divulged by god
and sex into its gender, every touch
a secret intercourse with angels as we walk
proffered and taken. Their great wings
batter the air, our retinas bloom silver spots like beacons.
Better than silicone or graphite flesh absorbs
the shock of the divine crash-landing.
I roll my eyes back, skylights brushed by plumage of detail,
the unrehearsed and miniscule, the anecdotal midnight
themes of the carbon sea where we are joined:
zinnia, tomato, garlic wreaths
crowning the compost heap.

--------
Have spent all day in the Brandywine Valley at museums -- the
Brandywine River Museum
in Pennsylvania, which has its annual train display and holiday critters as well as the art of three generations of Wyeths, then the
Delaware Museum of Natural History
which has dinosaurs plus an exhibit on the science of football, and finally the
Delaware Art Museum
which has loaned its Pre-Raphaelite collection out while it is finishing remodeling, but which currently has
Pirate Tales and Beyond: The Adventures of Rip Squeak and Friends
plus an exhibit on Sloan's New York and a permanent display of Howard Pyle's pirate paintings. Had a lovely afternoon, including lunch in the Brandywine Museum's excellent cafe and grungy dinner including Cinnabon at the Chesapeake House along I-95, but am now totally zotzed so shall simply offer some representative photos and collapse.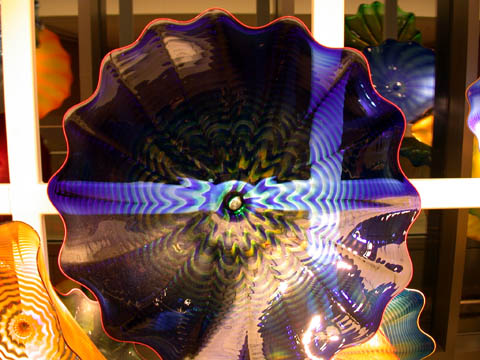 Dale Chihuly's Persian Window, seen from outside the rear entrance to the Delaware Art Museum.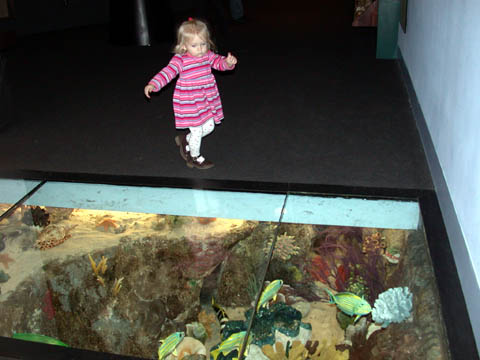 A little girl afraid to walk across the "coral reef" display in the floor at the Delaware Museum of Natural History.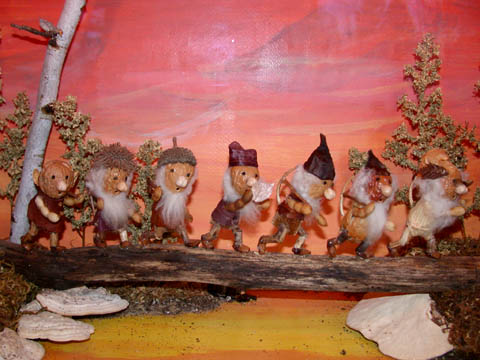 Seven Dwarf critters at the Brandywine River Museum (last year's photos are here).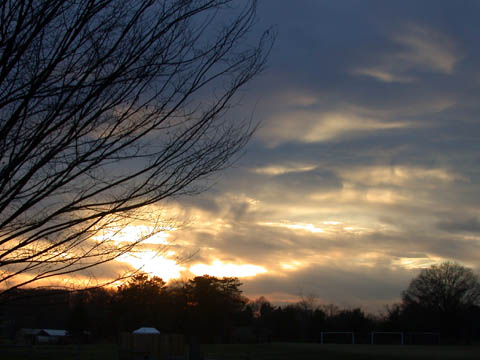 The gorgeous sunset over Delaware.
Tomorrow I will have no transportation and must work! So I shall catch up then! Apologies!