Orkney Interior
By Ian Hamilton Finlay
Doing what the moon says, he shifts his chair
Closer to the stove and stokes it up
With the very best fuel, a mixture of dried fish
And tobacco he keeps in a bucket with crabs
Too small to eat. One raises its pincer
As if to seize hold of the crescent moon
On the calendar which is almost like a zodiac
With inexplicable and pallid blanks. Meanwhile
A lobster is crawling towards the clever
Bait that is set inside the clock
On the shelf by the wireless—an inherited dried fish
Soaked in whisky and carefully trimmed
With potato flowers from the Golden Wonders
The old man grows inside his ears.
Click! goes the clock-lid, and the unfortunate lobster
Finds itself a prisoner inside the clock,
An adapted cuckoo-clock. It shows no hours, only
Tides and moons and is fitted out
With two little saucers, one of salt and one of water
For the lobster to live on while, each quarter-tide,
It must stick its head through the tiny trapdoor
Meant for the cuckoo. It will be trained to read
The broken barometer and wave its whiskers
To Scottish Dance Music, till it grows too old.
Then the old man will have to catch himself another lobster.
Meanwhile he is happy and takes the clock
Down to the sea. He stands and oils it
In a little rock pool that reflects the moon.
--------
After Adam got back from the county cross country championships, at which he was not thrilled with his own time but Churchill's boys won, we picked up my parents and went to the University of Maryland to meet Paul's parents and Daniel for Family Weekend. We had gorgeous weather, high 50s and overcast, with the trees showing a lot of color. I thought the campus might be mobbed, but Daniel said it was much worse on Friday; other than the bookstore, there were really no crowds, and we had California Tortilla on Route 1 practically to ourselves for dinner.
There were various concerts and readings going on around campus, but neither son had expressed interest in them, so we mostly walked around -- past the football stadium to the student union, across the front of the library to the center of campus, down past the chapel to Route 1, then back around the farm so Daniel could get to a fencing event in the evening. We had not seen Clair and Cinda in several months since they were out west visiting David and Jon, so it was very nice to spend an afternoon with them and they brought us candy, blueberry syrup, and chocolate covered pretzels from various spots on their travels. Unfortunately the Terps lost badly to the Seminoles at Florida State, though that wasn't exactly a surprise; we only saw a couple of minutes of the game during a stop at the University Book Center to check out sweatshirts.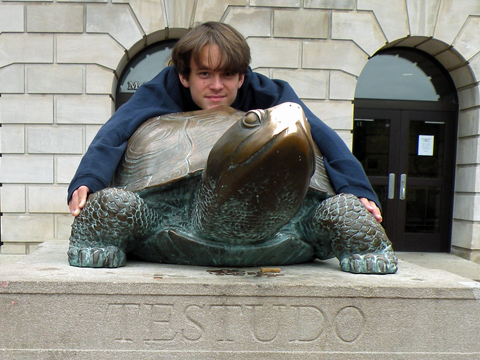 Adam greeted Testudo, who had some offerings of coins and dog biscuits from students hoping for luck on exams.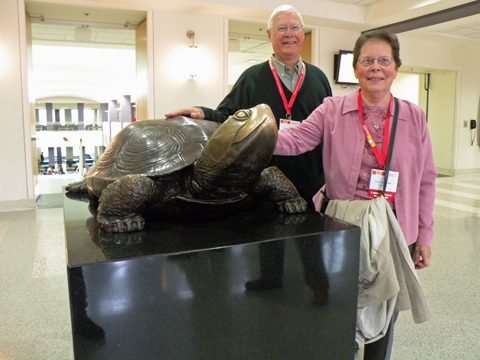 Clair and Cinda posed next to the replica Testudo in the Stamp Student Union...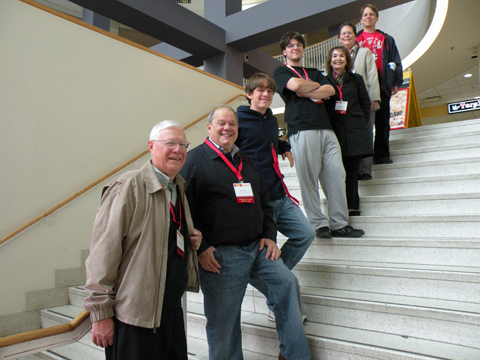 ...where my entire family posed on the steps to the food co-op and bookstore.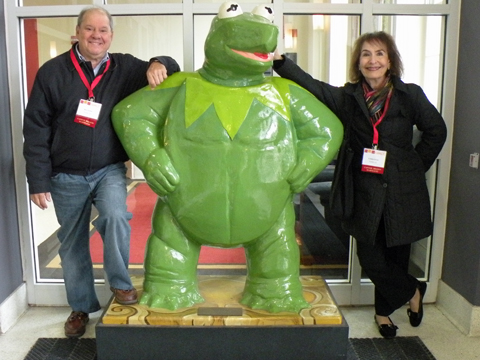 Here are my parents with mascot Testudo as Kermit the Frog...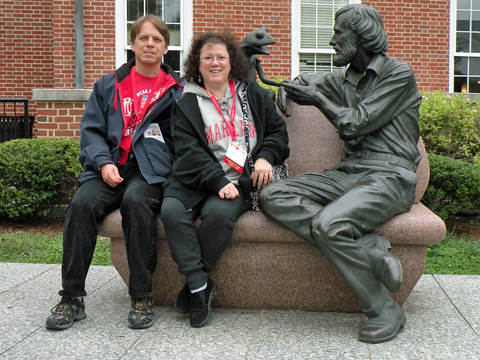 ...and here are Paul and myself with the sculpture of alumnus Jim Hensen and Kermit outside the student union.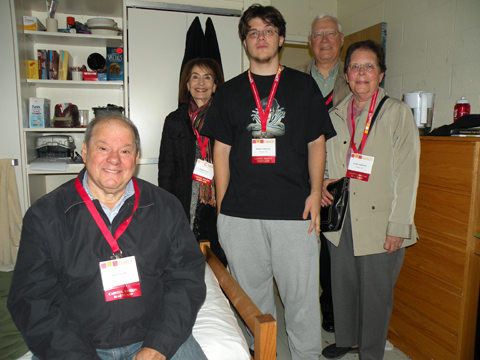 Daniel posed (less than ecstatically) with his grandparents in his dorm room.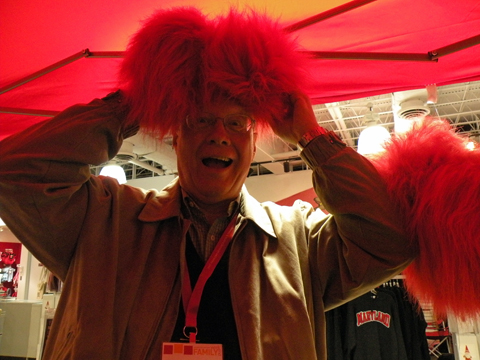 It's hard to look as cool as Grandpa Clair with Terp-colored hair, anyway.
This is the mural in California Tortilla showing Testudo as a Pikachu, a Power Ranger, a basketball champion, a Disney character, and the Stay-Puft Marshmallow man, among other things.