San Antonio
By Naomi Shihab Nye
Tonight I lingered over your name,
the delicate assembly of vowels
a voice inside my head.
You were sleeping when I arrived.
I stood by your bed
and watched the sheets rise gently.
I knew what slant of light
would make you turn over.
It was then I felt
the highways slide out of my hands.
I remembered the old men
in the west side cafe,
dealing dominoes like magical charms.
It was then I knew,
like a woman looking backward,
I could not leave you,
or find anyone I loved more.
--------
I've posted that before, but it's my anniversary so I'm allowed to post it again.
I had a lovely but busy Thursday. In the morning I got to have a long-postponed coffee date with Cybele, the mother of Adam's best friend, who lives eight houses away from me yet whom I usually only see in passing -- they had a party last week, so this is actually two substantive conversations in five days, which may be a record for us! I had hoped to see Hufflepants, too, but our timing around lunch didn't work out.
Daniel has been watching
Gargoyles
on YouTube since several of his friends like it, and since I am the only Star Trek fan on the planet who'd never seen a single episode, I ordered the first season on DVD. We watched a few episodes together -- I must admit that I was pulling for the villains, since I'll always root for Jonathan Frakes and Marina Sirtis, but neither has done anything unforgivable yet, so I feel no guilt in that regard.
After having to go without for several weeks, I had dinner with Gblvr -- as usual, I had a crepe, she had butter chicken -- and we did a bit of shopping, mostly super-cheap accessories and trying on makeup we didn't buy. The rest of my family had dinner with my parents. In the evening we watched the animated Trek episode I need to review this week and the new
Futurama
, which left so little impression that I had to ask my kids to remind me what it was about.
Ugly Americans
' bad Harry Potter parody stuck in my mind more. Here are some more Antietam photos: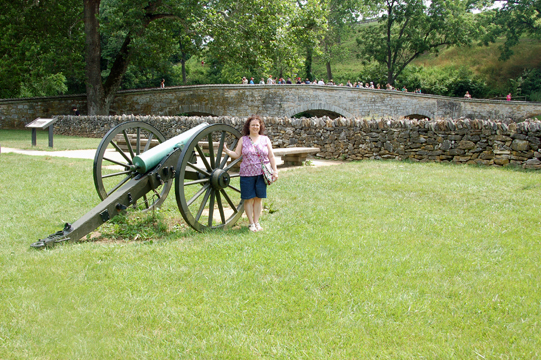 Me beside a cannon at Burnside's Bridge.
A canoe travels down Antietam Creek.
Maryland's state flower, the black-eyed susan.
A fiddler plays popular Civil War tunes.
An overlook tower beside the Irish Brigade memorial.
The path beside the Bloody Lane.
A path across the Cornfield (which is no longer entirely a cornfield, though it is being replanted to look the way it did the day of the battle).
And another view of Burnside's Bridge.