Goddess of Maple at Evening
By Chard deNiord
She breathed a chill that slowed the sap
inside the phloem, stood perfectly still
inside the dark, then walked to a field
where the distance crooned in a small
blue voice how close it is, how the gravity
of sky pulls you up like steam from the arch.
She sang along until the silence soloed
in a northern wind, then headed back
to the sugar stand and drank from a maple
to thin her blood with the spirit of sap.
To quicken its pace to the speed of sound
then hear it boom inside her heart.
To quicken her mind to the speed of light
with another suck from the flooded tap.
--------
After a relatively quiet morning working on holiday cards, we spent Saturday afternoon in Baltimore's Druid Hill Park at the Howard Peters Rawlings Conservatory and the Maryland Zoo. The former was actually more crowded than the latter, since there's a poinsettia and holiday train display in the indoor garden, whereas the zoo is chilly at this time of year and many of the outdoor animals are off display for the winter, but there were few people at either which was very nice both for seeing the plants and animals and simply for relaxing. Adam even deigned to come with us since they're both great places to take photos.
The conservatory now has a fish food machine so visitors can feed the koi, though one of the huge old cacti has died since we last visited. The train exhibit isn't large but there are three trains running in close proximity and a Barnum & Bailey Circus. Though a significant number of animals in the Africa exhibit at the zoo weren't out, the rest were all quite awake and active -- the sitatunga, cheetahs, leopards, ostriches, penguins, elephants (who were trying to eat the grass outside their enclosure), and lions were all outside, while the chimpanzees were very active in their indoor home and the sifakas had a newborn baby.
One of the snowy owls in the Arctic region of the Maryland Zoo...
...which is also where the polar bears live. (This one woke up when it heard the keeper arriving with food.)
Sharing their enclosure with cormorants who are supposed to be there and seagulls who try to steal their food, the African penguins naturally live in the Africa region...
...as does this sleepy lion, who later got up and walked over to see his mate.
There are currently poinsettias in every area of the Baltimore Conservatory.
In several places they have been arranged to look like red Christmas trees, including this one in the desert room...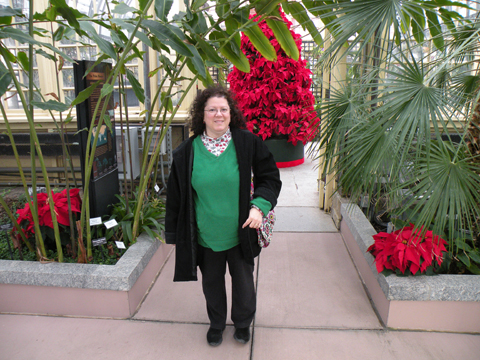 ...and the one behind me in the orchid room.
They're also all around the model train display.
In the evening we all got haircuts and stopped at the food store for cough drops and assorted other things. We had jacket potatoes for dinner in honor of the Idaho Potato Bowl and I spent the evening working on cards some more, so that's about all the excitement!