The Sky BrightensBy Dorje ChoepaTranslated by High Peaks Pure Earth
A conch shell blows out fire
A sword hacks out fire
Ten thousand lamps flicker with fire
The angry eyes of a Bodhisattva carry fire
The sky brightens
--------
Since Paul still can't walk much, I told Cheryl to come over on MLK Day and we would try to catch up on Oscar contenders before the Academy Awards. She got here right around when Adam got back from track practice, and we went out for bagels before going to see
Dallas Buyers Club
, which is excellent -- now I have a serious dilemma who to root for in the Best Actor category, because as great as Chiwetel Ejiofor is in
12 Years a Slave
, Matthew McConaughey is equally good in
Dallas Buyers Club
(and having seen Jared Leto just last night in
Requiem for a Dream
, he is phenomenal and completely unrecognizable in
Dallas Buyers Club
).
Since Cheryl had not seen
The Butler
, we watched that on DVD when we got home. I still think Whitaker and Winfrey were overlooked for that movie but it's a pretty competitive year for actors; I can think of a lot of movies, like that one, with mediocre screenplays and only moderately good direction where the actors really elevated the material. After Cheryl went home, my family had veggie jambalaya for dinner, then we all watched the
Sleepy Hollow
season finale together -- I am sorry it's going off the air so early but glad it's already been picked up for next season. It's going to be a week of photos from several weeks back since we basically didn't get out; here's one from the US Botanic Garden: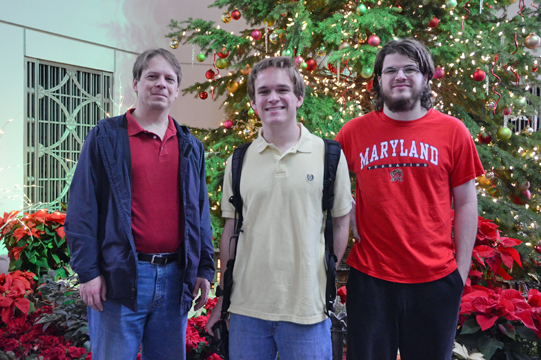 Enjoy the snow if you're in the line of the storm!