The Distant Moon
By Rafael Campo

I

Admitted to the hospital again.
The second bout of pneumocystis back
In January almost killed him; then,
He'd sworn to us he'd die at home. He baked
Us cookies, which the student wouldn't eat,
Before he left--the kitchen on 5A
Is small, but serviceable and neat.
He told me stories: Richard Gere was gay
And sleeping with a friend of his, and AIDS
Was an elaborate conspiracy
Effected by the government. He stayed
Four months. He lost his sight to CMV.

II

One day, I drew his blood, and while I did
He laughed, and said I was his girlfriend now,
His blood-brother. "Vampire-slut," he cried,
"You'll make me live forever!" Wrinkled brows
Were all I managed in reply. I know
I'm drowning in his blood, his purple blood.
I filled my seven tubes; the warmth was slow
To leave them, pressed inside my palm. I'm sad
Because he doesn't see my face. Because
I can't identify with him. I hate
The fact that he's my age, and that across
My skin he's there, my blood-brother, my mate.

III

He said I was too nice, and after all
If Jodie Foster was a lesbian,
Then doctors could be queer. Residual
Guilts tingled down my spine. "OK, I'm done,"
I said as I withdrew the needle from
His back, and pressed. The CSF was clear;
I never answered him. That spot was framed
In sterile, paper drapes. He was so near
Death, telling him seemed pointless. Then, he died.
Unrecognizable to anyone
But me, he left my needles deep inside
His joking heart. An autopsy was done.

IV

I'd read to him at night. His horoscope,
The New York Times, The Advocate;
Some lines by Richard Howard gave us hope.
A quiet hospital is infinite,
The polished, ice-white floors, the darkened halls
That lead to almost anywhere, to death
Or ghostly, lighted Coke machines. I call
To him one night, at home, asleep. His breath,
I dreamed, had filled my lungs--his lips, my lips
Had touched. I felt as though I'd touched a shrine.
Not disrespectfully, but in some lapse
Of concentration. In a mirror shines

The distant moon.

--------

Got
A Woman's Guide To Adultery
in the mail yesterday. Have not had a long enough stretch with sleeping children to watch much yet but I did put it in long enough to see if the disc was all right, whereupon I discovered that I MUST HAVE SCREEN CAPS FROM THIS MOVIE. Anyone know where I can find any?
And oh! PSA for U.S. shoppers that I forgot to mention. The other day, when I was shopping with my kids, KB Toys had
Lord of the Rings
playing cards -- two decks, heroes and villains, together in a tin with Frodo etched on it. And even though the packaging has TTT art, the cards are from FOTR so Boromir's on all the threes. Have I mentioned that in addition to Tarot decks, of which I have about fifty, I also collect transformation decks and decks of ordinary playing cards with interesting backs? I appreciate interesting court cards, like the Grateful Dead deck with skeleton aces, jacks, queens, kings and jokers, but much prefer decks where the twos through tens have art on them as well, which these LOTR decks do. They're not quite as nice as the
Star Trek
decks which have glossier, thicker cards with no repetitive images, but the LOTR tins were only $3.99!
Today, in theory, we are going to the county agricultural fair. I say "in theory" because it is supposed to be over 95 degrees, and I may traipse across the fairgrounds to Borders and sit and read while my husband and kids go on the rides. I don't want to miss the pig show, though.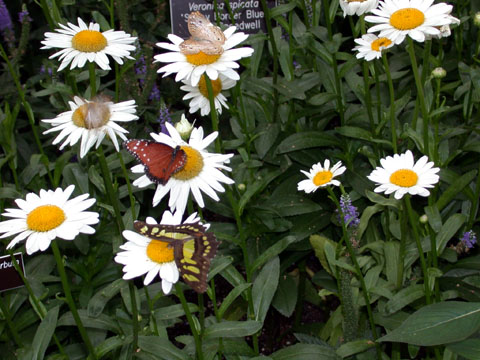 In the Butterfly Garden, Brookside Gardens, Wheaton, Maryland